The other college that has a place in the collection, Northern State University, has roots just as deep, if not deeper, as Presentation College here in Aberdeen. It was not, however, always known as Northern State University. In fact, it all began as Northern Normal and Industrial School.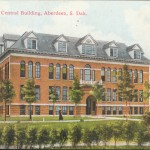 Two postcards showing the central building of NNIS.
(Click to view larger.)
Interestingly enough, it was Father Robert Haire who made the first official proposal for an institution of higher education to be placed in the northern part of the state. (For more on Father Haire, see the Sacred Heart blog post.) It would be some time until this proposal would come to fruition, but in 1901 Northern Normal and Industrial School was finally established through legislative enactment.Construction began in short order, and by the time December of 1901 rolled around, the first central building of the school was almost complete. Unfortunately that one was destroyed by fire, but it was rebuilt, and in March of 1902 faculty were selected to teach at the new Northern Normal and Industrial School when it opened on September 9th with Miss Jean Mitchell of Hecla being the first student to register.
After its opening the school was quite successful, so in 1903 legislature decided to build a Ladies' Hall for the school. Two short years later George W. Nash succeeded Mr. Koehler in his position as president of the school, and with him came new courses of study as well as a new Mechanic Arts building. Several more structures were built shortly thereafter, some of which are still recognizable on campus today, including the Administration building dating back to 1907 that was one of the first modern fireproof structures in the state.
To make a long story short, as Northern Normal and Industrial School grew and changed, so did the focuses of the institution, and with these changes came changes in name. Slowly Northern Normal morphed into Northern State Teachers College, then in 1964 with much controversy it became Northern State College, and finally in 1989 it went into legislate with Dakota State and Black Hills State to become the university that we know today.
Other Useful Links:
NNIS 25th Anniversary Booklet
NNIS Basketball Postcard
NNIS Football Postcard
Northern State University
Browse Items in the Collection
Browse by Collection
Contribute an Item