The education system has changed quite a bit since the mid-1900's, and some items from that collection that attest to that fact are a group of "Brownco Courier" newsletters dating from 1945 to 1949.
The "Brownco Courier" was published by the county superintendent's office and sent out to all of the teachers on the Saturday of the fifth week of each six week period. Contained within these newsletters was a myriad of ideas and activities to help teachers in the classroom. They were given examples showing how to grade students' work and teach them the correct way to write, and they were provided with lists of books and equipment they would need for the selected curriculum. Also included in the mix were some patterns teachers could use to decorate their classrooms, like this picture of "Mr. Squirrel" seen below (click to see on pg 53 of original document).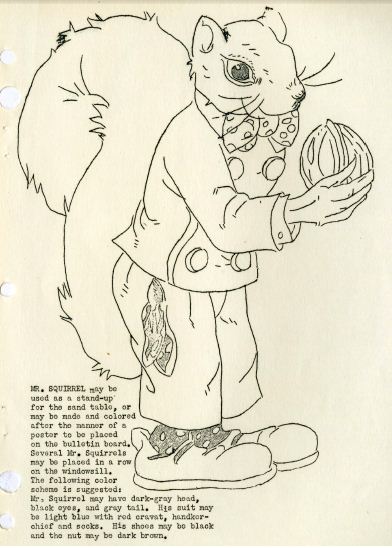 Another thing included in the newsletters was a letter from the Brown County Public Health Nurse, who happened to be Rose Nelson after 1946. These letters included tips for the teacher to keep an eye on her students to make sure that they all remained as healthy as possible, like using as fresh of milk as possible and washing hands before eating. Teachers were also supposed to clean their classrooms daily, since cleanliness promotes good health, so between cleaning and teaching and helping students with their YCL (Young Citizen's League) projects, the life of a teacher would have been very, very busy. Be sure to check out the links below for more detailed information.
A labor excuse form, letter from the Brown County Nurse, and a suggested daily schedule (Click to view larger).

Some useful links:
Brownco Courier 1945-46
Brownco Courier 1946-47
Brownco Courier 1947-48
Brownco Courier 1948-49
Browse Items in the Collection
Browse Items by Collection
Contribute an Item